Tribunal Bar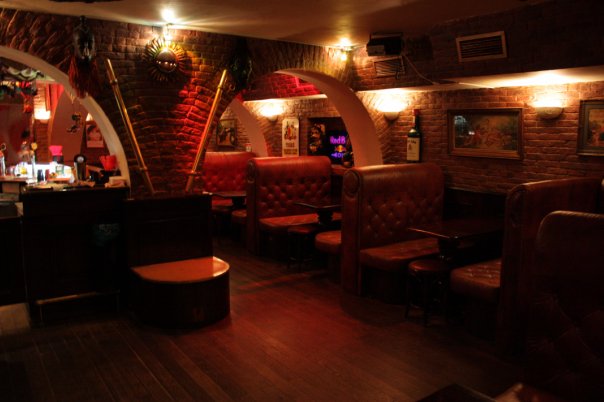 Tribunal Bar is located in one of the city's famous historic sites — the 18th century Senate Building.
A 5 month complete renovation of the 300 square-meter area, resulted in St. Petersburg's first, truly «international» late-night pub, with a capacity of 150 people. Along (62 seat) bar stand provides for easy bar service. There is plenty of room for dining, dancing and moving about plus many small intimate nooks, provided by the unusual shape of the building, where guests are served by bright, denim — clad waitresses.
The prominent location is a prime advantage of Tribunal Bar — in the heart of the tourist area and just five minutes walk from Nevsky Prospect, St. Petersburg's main street. During the summer a sidewalk terrace provides spectacular views over the Neva River and the famous Bronze Horseman (a statue of Peter the Great regarded as the «symbol of the city»).
Shortly after opening in November 1995, Tribunal Bar established itself as the liveliest night-time venue in St. Petersburg, j. Tourists and students mix with the «new wave» of young Russians out to enjoy live music and dancing until the early hours of the morning. Regular live music and dancing is a particular attraction of Tribunal Bar, and an essential part of the Russian idea of a «complete night out». As well as bar and table service of drinks (including specialty cocktails), guests can order meals and snacks
Tribunal Bar has borrowed from history to create its own unique image — a lively, fun, slightly irreverent place. Tribunal Vodka, the bar's exclusive vodka, is distilled in Holland and stored in barrels — a return to the old Russian tradition. Vintage memorabilia — kitsch figurines, old advertisements and village treasures — add a nostalgic touch.
As a daytime stop on the tourist trail, for informal lunches and for fun-filled lively nights, Tribunal Bar is set to remain a major point on the St. Petersburg entertainment scene.