Night disco club Konusheny Dvor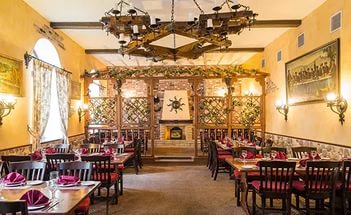 A stone's throw from Nevsky Prospect, next to the St Petersburg Restaurant, the Konusheny Dvor Disco-Bar is located. This is one of the oldest and best night clubs in St Petersburg. Here the most popular and respectable citizens, as well as the brilliant youth of both capitals get together. Fashionable DJs run the Discotheque and pop-stars perform in this Club. And finally, the best fashion models of St Petersburg drop in to while away the time here.
The interior of the bar is designed in a country-style, rough dark wood and red brick. High arched ceilings are supported by massive beams. The entrance is guarded by a beautiful life-size cast-iron horse. The wooden benches are covered with soft goat-hides. Charming Old German dolls (Damen und Herren) are blowing eternal kisses to each other. The Konusheny Dvor is equipped with first-class music and lighting equipment, ensuring high quality sound and lights. European Hits make the Disco programmes. The House style is prefered, Rave music, being incongruous with the respectable style of the club, is excluded.
It should be noted that the Club is open not only at night. In the day time the Konusheny Dvor operates like a day-time bar. Besides a great variety of popular kinds of beer here you will find good vintage wines, cognacs, Scotch and Irish whiskies. In addition to strong alcoholic drinks the Bar offers a great variety of cocktails among which B-52 is surely the Hit of the Season. Here you can also have a cup of good coffee Irish or French Style, and a generous snack.