Kavkaz restaurant
Not far from the Alexander Nevsky Monastery, across the Neva, under a cast-iron canopy twined all over with a heavy grape vine the Kavkaz Restaurant is hiding.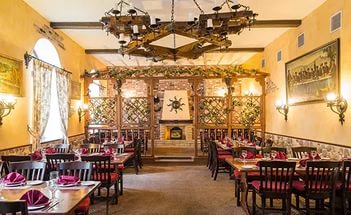 The best Georgian wines — the velvety dark-ruby Khvantchkara, the rich-red Mukuzani and light soft Tsinandali have eventually found a tiny corner of the real sunny Caucasus in St Petersburg. At the very entrance guests will find a souvenir stand offering amazing Georgian ceramics, national Georgian caps, Djourabs, and other original articles. Clean white walls, paintings of Georgian feasts, reminding us of the works of the great Niko Pirosmani, heavy long tables, the best and the most diverse Georgian cuisine in the whole city, the whiff of oriental spices, good wine — what else could one desire? Only toasts and a good chat. Vano Savelidze, the Kavkaz Chef, with 30 years' experience in Sukhumi and Tbilisi restaurants could tell you a lot of culinary secrets, but respected Vano prefers to cook. Even the standard Tcheboureki meat-pies here are really delicious, amazingly puffed with a pimpled crust.
And if, bewitched by the magic odours of herbs and spices, the centuries-old secrets, of Caucasian cuisine and live music, you drink too much wine — don't worry! In the morning you will be offered Khashi to make you feel good, safe and sound. Here, according to the Laws of Menu Highlights real Caucasian hospitality, you will be treated as a dear guest. And for those who are really short of time, the Restaurant has a Bistro, where you will find the same variety of delicious dishes at a much lower price.